To operate a facility safely, efficiently and reliably, an operator requires access to a multitude of information. While Control and Process Information Systems provide real-time data, logbooks in the form of running logs, outage logs, craft discipline logs and environmental compliance logs provide narrative context detailing the health of the facility.
PlantView Logbooks replace traditional paper logs, text documents, spreadsheets and home-grown portal solutions with a dedicated operator logs system. By integrating information from many different sources into a single on-line searchable database, PlantView Logbooks become the central repository of operating information and is a requisite tool to help ensure that a facility is operated at maximum efficiency. When responsibility is transferred to a new operating shift, PlantView Logbooks define and convey the most current information to minimize shift turnover risks.
Benefits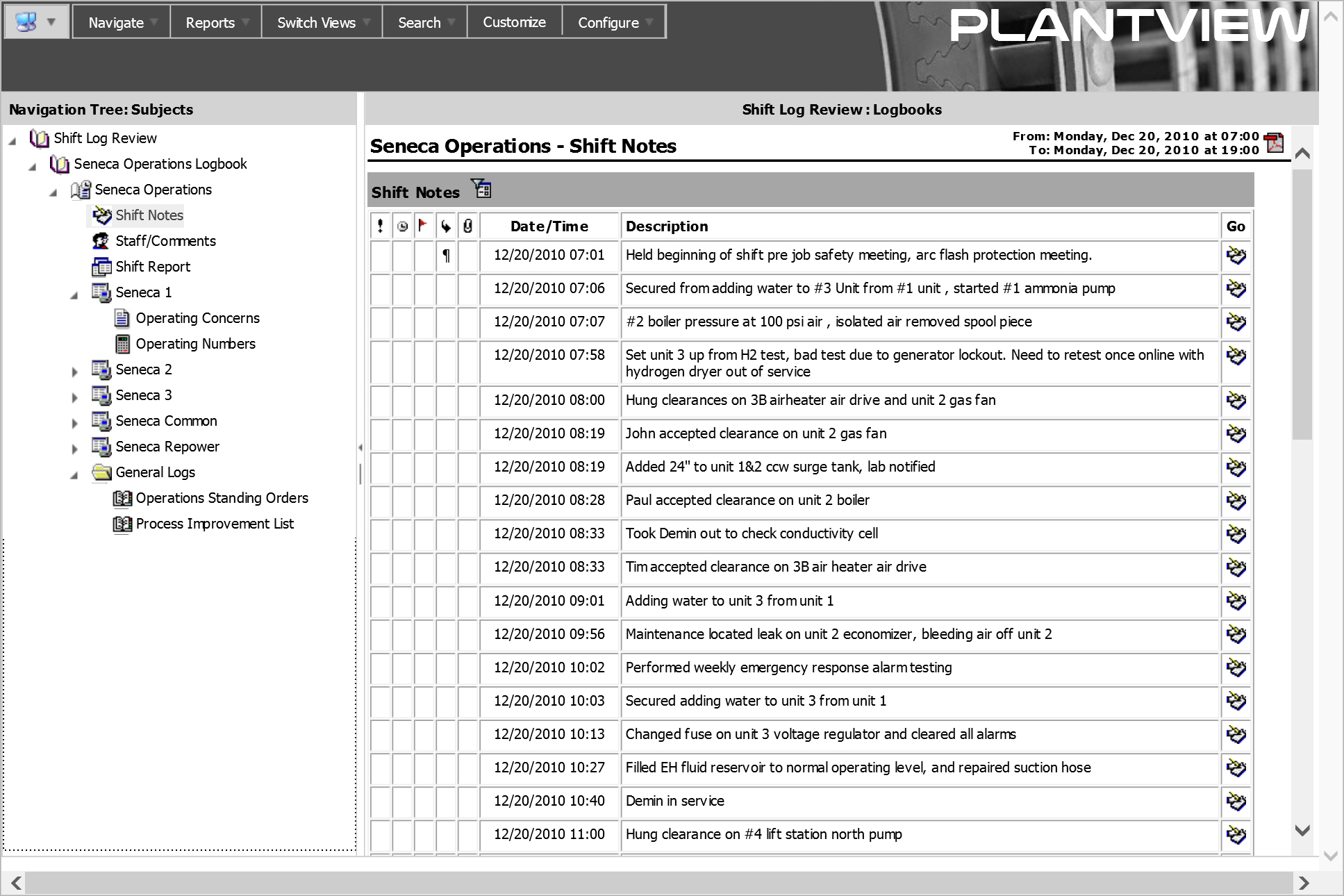 Features
Security
Configuration Details
PlantView Logbooks is a configurable solution to document specific events that occur during a shift. Logbooks consist of Shift Logs which are assembled from Shift Notes, Operating Concerns, General Logs and Operating Numbers.
Shift Notes
Shift Notes document what happened during the shift. They typically capture Date/Time and Text. As each shift ends, the notes from the current shift are archived and the slate is cleared in preparation for a new shift. Additional attributes allow a Shift Note to be assigned a Priority and a Category. When a Shift Note might be relevant to the next shift, such as for standing orders or to document on-going conditions, a Carry Forward attribute allows the entry to be automatically copied forward into the new shift, for standing orders to document on-going conditions.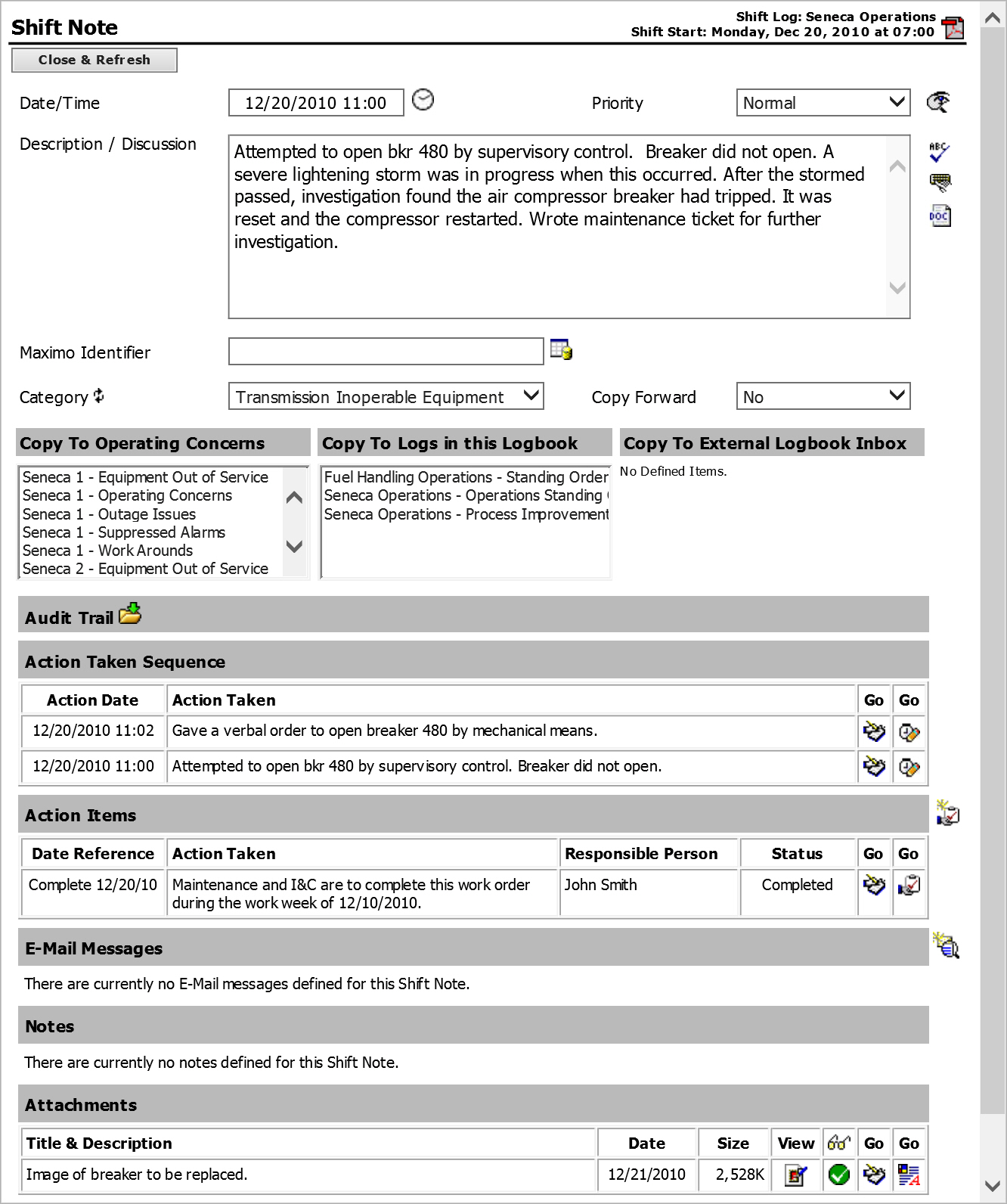 Shift Notes contain detail items such as Action Taken Sequence, E-Mail, Notes and Attachments. An Action Taken Sequence is a chronology of actions that were taken because of the Shift Note. By capturing them within the Shift Note, they clearly link the cause and effect of the incident. E-Mail allows the operator to notify an individual and to include a URL link to view the Shift Note. Notes allow the operator to provide additional comments. Attachments allow files such as pictures, documents or spreadsheets to be uploaded providing additional information or documentation.
Operating Concerns
Operating Concernsdocument what you are concerned about on an on-going basis. They are intended for long-term issues. They are grouped by user defined categories such as Safety Issues or Environmental Issues and are automatically carried forward to each new shift until their status is changed to Closed and a resolution has been determined. In addition to standard detail items, Operating Concerns support a chronology feature where the discussion associated with a specific operating concern can change as the issue evolves over time.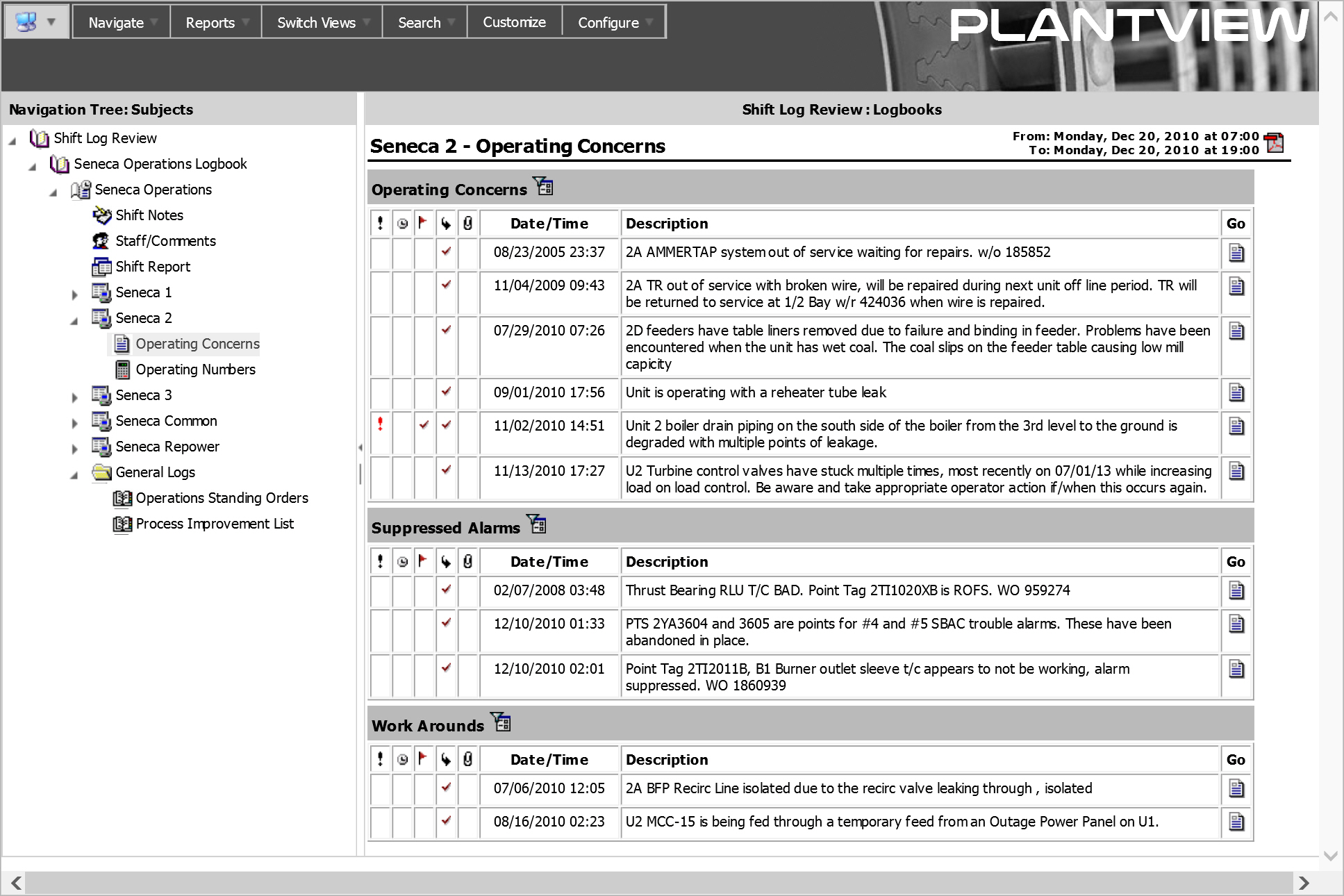 General Logs
General Logs represent the clipboards and other to-do lists found in the control room. There are three types of General Logs: Standard, SQL and User Configurable.
Standard General Logs combine the concepts of Shift Notes and Operating Concerns. They can either be shift based, archiving and starting clean with each new shift, or non-shift based, where the notes carry forward until they are completed.
SQL General Logs allow information to be extracted from a SQL database and included in the shift report. For example, a general log might contain the Work Order, Work Requested and Work Performed for all work orders closed during a shift or it could be a snapshot query of process data from a data acquisition system. This serves the dual purpose of archiving the information as it was defined at the end of the shift and including the information in the distributed shift reports.

User Configurable General Logs are the "Swiss Army knife" of general logs. They provide the capability to create an on-line version of currently utilized custom forms. Any number of fields represented by text, checkbox, date/time, single-select, multi-select and read only can be arranged on a form to collect the required information. The general log can be shift based or non-shift based, supports full search capabilities and is JavaScript enabled to implement challenging business rules. Logs can be configured for two person "Certify & Lock" from future changes.
Operating Numbers
Operating Numberscapture multiple indicators/ values normally collected on a periodic basis. They are user defined as text, date/time, drop-downs and checkboxes and can be collected on a Shift, Daily, Weekly or Monthly basis.